I'm very excited to announce our new workshop to help couples strengthen their relationships and financial futures.  I'm joining forces with Philip Olson, Certified Financial Planner and Julia Lorenz-Olson of The Art of Finance to get couples on the same page so they can enjoy their relationship with money and each other in a more confident and fulfilling way.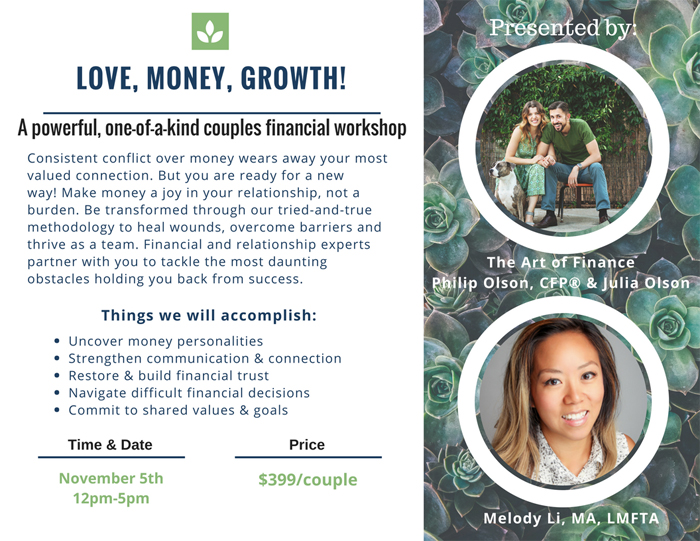 Love, Money, Growth!
A One-of-a-Kind Couples Financial Workshop in Austin
Consistent conflict over money wears away your most valued connection. But you are ready for a new way!
Make money a joy in your relationship, not a burden. Be transformed through our tried-and-true methodology to heal wounds, overcome barriers and thrive as a team.
Financial and relationship experts partner with you to tackle the most daunting obstacles holding you back from success.
Things we will accomplish:
– Uncover money personalities
– Strengthen communication & connection
– Restore & build financial trust
– Navigate difficult financial decisions
– Commit to shared values & goals
Details
DATE: Sunday, November 5th
TIME: 12 – 5 PM
ADDRESS: Austin Counseling Collective, 1012 E 38th 1/2 St. Austin, TX 78751
PRICE: $399/ couple
Early bird price (before October 15th): $350/ couple
You will receive an invoice via Paypal. Please complete payment within 48 hours to reserve your spot.
INCLUDES:
– hands-on, interactive learning & activities (no boring lectures!)
– practical course materials
– snacks & refreshments
– personal Q&A time with each presenter
Sign up below today – space is limited to 10 couples.  Consider inviting a friend!